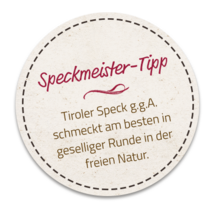 Tyrol's cuisine comes together on the board
In Tyrol, cuisine and conviviality are inseparable. A Tyrolean "Marend" invites you to get to know one another while hiking or resting at the lodge, makes friends of enemies and unites Tyrol's culinary highlights on one board.
It's a special feature of the Tyrolean way of life and is testimony to a tradition of enjoyment: A Tyrolean Marend, a snack between meals in the late afternoon or early evening, where typical Tyrolean delicacies are enjoyed.
Ingredients of an original Tyrolean "Marend"
The most important component is original Tyrolean Ham PGI, finely cut in slices, strips – known as "Stifterln" – or cubes, each providing a different taste experience.
Tyrolean raw sausages always belong on the board at a Tyrolean Marend. Tyrolean Bergwurz, Tyrolean Kaminwurzerl or Tyrolean Landjäger go excellently with Tyrolean Ham PGI and are sliced finely with a sharp knife.
And of course, one mustn't forget a good mountain cheese or some fresh Tyrolean farmhouse bread.
In Tyrol, a fitting end to such a meal is a glass of original Tyrolean fruit schnapps ("Obstler")– for the adults, at least.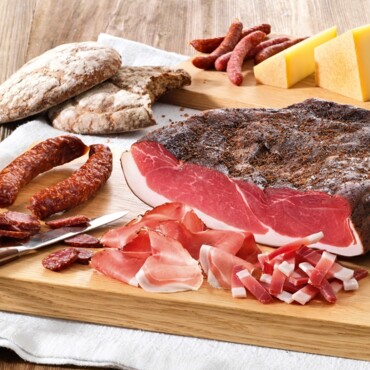 The right way to cut ham is a matter of faith for many Tyroleans.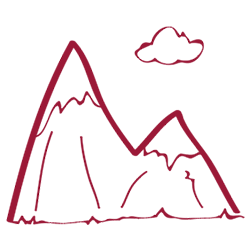 Cutting Tyrolean Ham PGI properly!
The right way to cut ham is a matter of faith for many Tyroleans. Try different ways! Every one develops its own flavour nuances.
The history of the Marend
The origins of the Marend were as a snack for hard-working Tyrolean farmers who used it to fill up on energy between meals. Back then, a simple Marend was composed of potatoes, milk and bread, since ham and cheese were only available to the wealthier farmers.
Today, the Marend is an expression of Tyrolean conviviality in its culinary form and gathers everyone together, whether its on a hike, a climb or at home. A Marend is enjoyed alone only in exceptional circumstances, it's much better to enjoy it together as a group.