Five hikes to Tyrolean Mountain Lakes
Mountain lakes are the highlight of a hike and are wonderfully refreshing on hot days. In Tyrol, the peaks are reflected beautifully in these clear, natural jewels. We present five mountain lake hikes.
Nedersee (2,436 m)
The Nedersee lake is wonderfully nestled in the mighty Nederkogel peak (3,163 m). The starting point is Obergurgl. The hiking trail to the Gurgler Seeplatte leads you first to little Soomsee lake – perfect for a short rest. The Nedersee is reached via a mountain path with wonderful views and from its banks there is a magnificent panorama of the surrounding mountains. Return to Obergurgl via the Lenzenalm hut.
Photo: © Ötztal Tourismus / Erika Spengler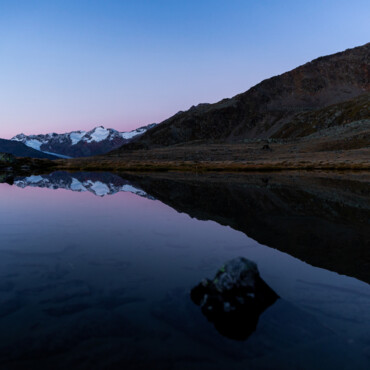 Drachensee (1,917 m)
The turquoise, almost perfectly round Drachensee lake by the Coburger Hütte lodge is beautiful and a little mysterious. A dragon is said to have dwelt there and guarded the inhabitants of a sunken village which lived on the fat of the land. Hardy types can even go for a dip in the icy water. The Coburger Hütte lodge (1,920 m) can be accessed most quickly form the mountain railway in Ehrwald via the Ehrwalder Alm hut and the Seebensee lake. This route is also possible with children.
Photo: © Tiroler Zugspitz Arena / B. Linder
Wildseelodersee (1,847 m)
You can do a loop of the romantic Wildseelodersee with a rowing boat or enjoy a wonderful meal in the Wildseelodersee lodge on its shore – e.g. Schlutzkrapfen filled with mountain cheese. The starting point for the hike is the car park for the Fieberbrunn mountain railway. You can reach the Wildalmen mountain pastures from the Lärchfilzkogel summit station via the Fieberbrunn panoramic route. This is the beginning of the family route up to the Wildseeloderhaus lodge. "Loder" is a regional, traditional term for "man".
Photo: © Marion Pichler Tourismusverband PillerseeTal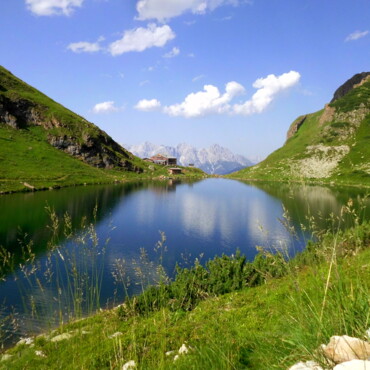 Rinnensee (2,645 m)
The beautiful Rinnensee lake extends at the foot of the Rinnenspitze peak (3,003 m), above the Franz Senn Lodge. A wonderfully kitsch mountain lake which reflects the peaks of the Stubaier Alps. The tour begins at the Oberissalm hut in the Oberberg valley. The route takes several winding roads through trees and mountain pines to the Alpein Alm hut. From here, you can see the Franz-Senn Lodge (2,147 m).
Photo: © TVB Stubai / Tirol / Andre Schönherr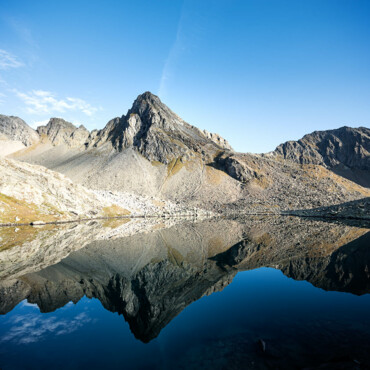 Lake Achen (929 m)
The relatively large Lake Achen lies to the north of Jenbach, high above the Inn valley. If you would like to enjoy a particularly beautiful view over the lake, take a hike to Moosenalm hut (1,530 m). From Achenkirch, it's not too difficult to hike over the hilly pastures. Chamoises, ibex and marmots can all be seen from the Moosenalm.
Photo: © Achensee Tourimus