Cutting Tiroler Speck PGI properly!
The right way to cut speck is a matter of faith for many Tyroleans. See the difference it makes! Every one develops its own flavour nuances.
Slices, Strips, Cubes or Shavings?

Slices
Sliced very finely, Tiroler Speck PGI develops its full aroma. In order to cut large amounts super-thin, it's worth using a cutting machine with a smooth blade (no serrated edge). If you don't want to cut it yourself, take a look at our pre-sliced products.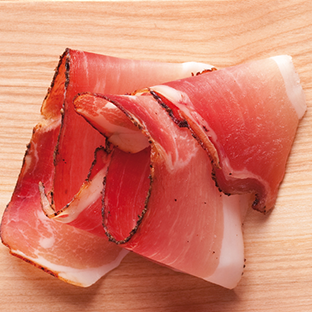 Strips
In Tyrol, speck is also enjoyed in strips – particularly when cut at home. Cutting speck into even 2 x 2 mm strips is ideal if you don´t have a cutting machine or just prefer a bit "more bite".
Cubes
Cubes of Tiroler Speck PGI are mainly using in cooking. For example, in the famous Tyrolean speck dumplings.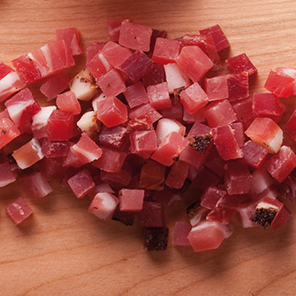 Shavings
Thinly shaved speck is also very popular, for example on a board alongside Tyrolean Bergwurz (raw sausages), mountain cheese and freshly-baked Tyrolean farmhouse bread.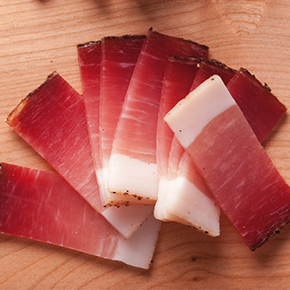 ​One Piece
And if you don't want to decide straight away, there's a hearty piece of Tiroler Speck PGI ready for you to cut at home. Like this, you can develop your own original Tyrolean cutting technique.
Tip:
To allow the ham's flavour to develop, simply take it out of the fridge 15 minutes before cutting.
And if there's any left, simply wrap in greaseproof paper and place in the fridge.