Ingredients for 1 loaf
350 g hokkaido pumpkin
100 g HANDL TYROL Tiroler Speck PGI Ham Cubes
1 tbsp butter
500 g flour
1 pack dry yeast
2 tbsp sugar
1 tsp salt
1 egg
1 tbsp milk
1 tbsp pumpkin seeds
Tiroler Speck PGI Ham Cubes - the practical little helpers from HANDL TYROL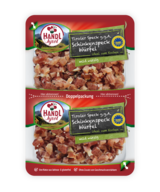 Preparation
Level of difficulty:
Hobby cook
Clean, wash and deseed the pumpkin. Cut the pumpkin into cubes and slowly boil with a little water until soft, while occasionally stirring. Afterwards drain the water and blend the pumpin into a nice puree.
Fold in the butter and milk and let it cool down to room temperature.
Mix the flour, dry yeast, sugar and salt in a bowl. Use the dough hook of a hand mixer to knead the egg and pumpkin-butter mixture into a dough. Afterwards fold in the HANDL TYROL Tiroler Speck PGI Ham Cubes and continue kneading the dough until smooth. Cover the dough and let it rest in a warm place for 30 minutes.
Loosely scatter some flour on your worktop and shape the dough into a loaf, before placing it in a previously greased loaf pan. Make a 1cm deep cut lengthways with a sharp knife and lightly coat it with some milk (according to your preference you can also sprinkle it with some roasted pumpkin seeds).
Bake in the oven (without preheating) at 170°C for approximately 50 minutes. Once the bread sounds hollow when tapping on it, it should be done.
Tip: Wrapped in a kitchen cloth, the bread stays fresh for 1-2 days.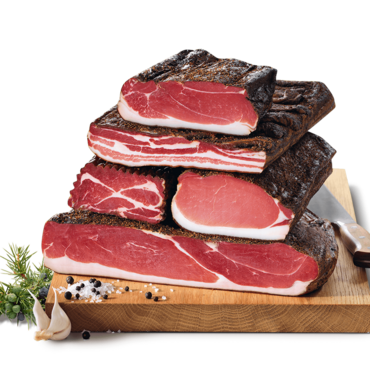 Cooking with Speck
Did you know that besides the Ham, there are also four other types of Tiroler Speck PGI (Protected Geographical Indication)? And HANDL TYROL is even the only producer of all five types. Take a closer look and explore the world of our Tiroler Speck PGI!
Tiroler Speck PGI
5 variations of Tiroler Speck PGI