A hearty breakfast is important for an energy-rich start to the day. Savoury varieties are enjoying increasing popularity and there are no limits when it comes to creativity on your plate.
Bacon, cheese, vegetables & Co provide a welcome change to the classic jam on toast. After a difficult day or a long evening, it replenishes important energy, provides vital power for the day and tastes great too. Our new Finest Bacon guarantees a perfect hearty breakfast. Fried crispy, it's enough to get you in a good mood first thing.
Start the morning with a hearty breakfast to set yourself up for the day!
The benefits of a substantial breakfast are many and varied:
Protein-rich - a hearty meal leaves you feeling full longer
Healthy energy provides energy for the whole day
Low carb food is on trend – if you eat less carbohydrate and more protein in the morning, fat burning is stimulated at the beginning of the day

Our Finest Bacon made from pork belly is produced in the traditional way, without injections of brine and without added flavour enhancers. The salt content is reduced so that the bacon is perfect to enjoy after searing.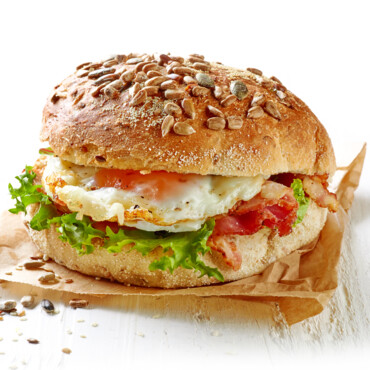 Mmm...Tyrolean Breakfast Burger
Give your morning some variety with bacon
Classic, with scrambled eggs, in an omelette, or a crispy accompaniment to your morning toast. With the Finest Bacon, the first meal of the day need never be dull.
Give your creativity free reign: with its mild, full-flavoured heartiness, this breakfast bacon is perfect for all kinds of creations. We recommend you take a look at our recipe page for inspiration, with plenty of fine ideas for your morning meals.