For many thousands of years, squash was a food in Central and South America. Its popularity also grew in Europe thanks to its nutty flavour and its versatility. Today, the squash – which is in season in our region between September and November – is an essential part of Tyrolean cuisine.
In Autumn, the squash, which is a fruit-bearing plant, is a popular ingredient in soups and stews. But it's mild, nutty flavour is also wonderful roasted, baked or fried with original Tiroler Speck PGI or other Tyrolean ham specialities.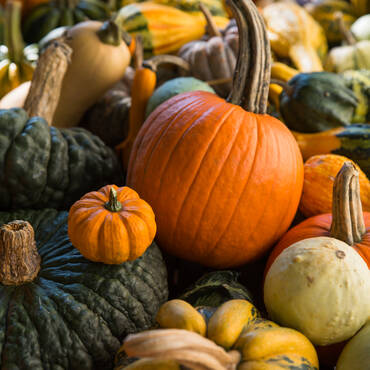 The fine, aromatic Hokkaido squash
The Hokkaido squash is one of the most popular and most well-known types of pumpkin. When ripe, its flavour is reminiscent of sweet chestnuts, it is easy to cut and can be used for soufflés, soups or as a vegetable accompaniment. It can also be enjoyed raw thanks to its sweet notes and is excellent in salads.
The Air-Dried Mountain Ham, with its full-flavoured, mild taste, harmonises perfectly with the sweet, aromatic flesh of the Hokkaido squash.
The tender Butternut Squash
The butternut squash, also known as butternut, enjoys great popularity in local cuisine thanks to its pear-shape and light skin. Its tender, light-orange flesh and mild, nutty flavour make it a perfect all-rounder. This type of squash is excellent for soups, purées, risottos or cakes. The seeds are also edible and have a pleasant, nutty flavour. You can either nibble them raw or enjoy them lightly roasted and salted. The combination of the mild but savoury Tiroler Speck PGI and the tender, nutty flavour of butternut squash is a culinary delight.
Healthy, rich and tasty
As well as its culinary benefits, squash is also rich in valuable nutrients which promote health and increase overall well-being:
Minerals and vitamins which strengthen our bones and our immune system
Fibre which is good for our digestion
Beta-carotin which is good for skin, hair and eyesight