Serves 4
100 g HANDL TYROL Tiroler Speck PGI Ham Cubes
1 onion
250 g flour
50 g maize starch
1 tsp baking powder
1 egg white
4 tbsp water
1 egg yolk for glazing
Herbs to taste
Tiroler Speck PGI Ham Cubes - the little helpers from HANDL TYROL cannot be missed in any kitchen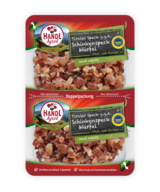 Preparation
Level of difficulty:
Beginner
Lightly fry the Tiroler Speck PGI Ham Cubes in the pan, add the onion and braise until golden. Allow the mixture to cool fully.
Knead flour, maize starch, baking powder, egg white and water into a dough and mix with the speck mixture. Leave the dough to rest for 30 minutes. Then roll the dough out approx. ½ cm and cut out the biscuits.
Place the cookies on a baking tray covered with greaseproof paper, coat with egg yolk and sprinkle with caraway, sesame or sea salt to taste.
Place the baking sheet into an oven preheated to 200 °C and bake for approx. 10-12 minutes until golden brown.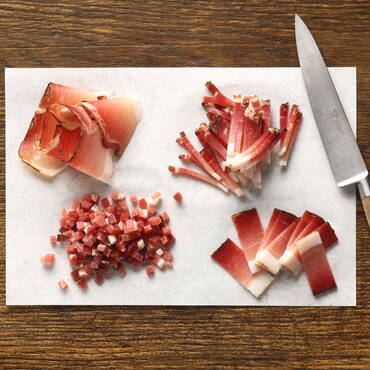 Cooking with Speck
Who enjoys to cook already knows: our Tiroler Speck PGI Ham Cubes are a practical must have in every kitchen. No matter if for original Tyrolean speck dumplings, casseroles or for refining soups and sauces – with HANDL TYROL good dishes taste even better.
Ham Cubes