Serves 4
100 g rocket
2 figs
1 ball of mozzarella
2-3 slices of HANDL TYROL Air-Dried Mountain Ham
30 g Tyrolean mountain cheese, freshly grated
For the dressing:
3 tbsp olive oil
1 tsp honey
1 tbsp lemon juice
Salt, pepper
The full-bodied, mild flavour of the Air-Dried Mountain Ham perfectly compliments Rucola and Mozzarella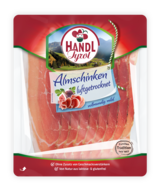 Preparation
Level of difficulty:
Beginner
Stir together all ingredients for the dressing and mix 2/3 of this with the washed and dried rocket. Place on a plate.
Wash the figs well, then quarter and place on the salad. Tear the Air-Dried Mountain Ham and the mozzarella into bite size pieces and place on the salad.
Grate the Tyrolean mountain cheese over the salad and then pour over the rest of the dressing. If desired you can also drizzle honey over the salad.
This recipe was created for us by "Penne im Topf", a great food blog (www.penneimtopf.com). Thank you Ann-Kathrin!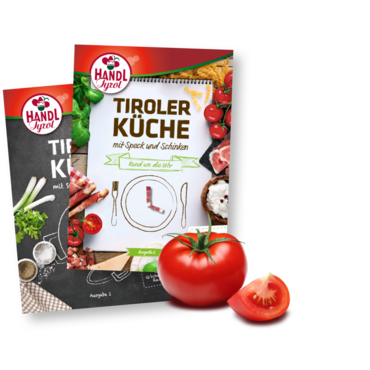 If you're searching for cooking inspiration. Become a Tyrolean!
We Tyroleans enjoy speck and other ham specialities at any time of the day. You can find many more modern and creative recipes, no matter if for breakfast, lunch or a midnight snack, in the recipe section of our magazine.
Recipes
Creative recipes to cook at home